April 25, 2006 ~ Grulla Filly with Bold Dun Factor

AQHA #4899843,

ABRA #T-18795



$4500

No trades please.
Discount if deal is closed before
trainer bill is due April 20, 2009
Click to contact the owner: Deanna Wirz

Melba Idaho, 208 (495-1143)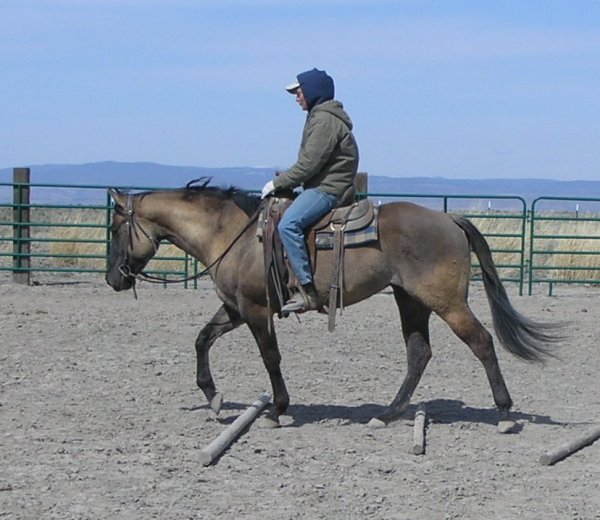 Handsome grulla filly with eye appeal. Great dun factor, sweet personality, easy going humor about life. Loves attention and being fused over. Looking for an attentive person for this filly, as she adores being adored.

Professionally started under saddle in March. 60 days ends April 20th. Doing great, Ok what next Personality. Will be in Burns Oregon during training and then back home to Melba Idaho.

Great ground manners, Cross ties, clips, baths and loads. Mother is HYPP: N/N, sire has no Impressive blood line. EVA vaccinated.
Her coat is a beautiful soft grulla with black\blue points in the summer, as shown in the photos taken in June of 2008 as a two year old, (pasture kept). She is just starting to fill out with work, and if she is like her sisters, she will keep growing through her three year old year, and then bulk up more at four.

ABRA points in Dun Factor and Am. halter earned straight out of the pasture at the only show she has been hauled to. We have used her for expos and 4-H demos, always a charmer.